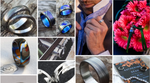 For time sensitive orders & fast communication
Each ring that I complete from the queue is premiered on my Instagram with photos and a short video! Please feel free to message me there as well for real time communication and collaboration on your custom ring!
*Current lead times ranges from 1 week to 10 weeks. Please inquire on the lead time if this could interfere with any scheduled events. We also offer "expedited orders" seen here in our Collection which usually offers a quicker turn around creating outside of the normal queue. These rings are created on the soonest available weekend and ship that next Tuesday. Please inquire about availability.
100% handcrafted just for you
All JBlunt Designs products are handcrafted with the utmost attention to detail and quality.
With Over 300 (5-Star) Customer Reviews!
Click bellow for our Google reviews and here for our ( Etsy reviews ) exclaiming our excellent product quality and great attention to customer service. (With a 100% possitive review rating!)
Google Reviews!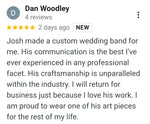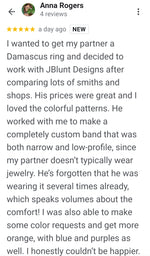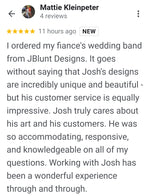 Making custom rings since 2011
We have made over 2,000 rings for customers in many countries worldwide including : Dubai, Israel, London, Germany, the U.K, France, Canada and the Maldives to name a few! Made in the U.S.A.
Testimonials
"Excellent quality! Very unique and sleek. We love it!"

- Megan Ehmke

"I ordered a custom wedding band for my husband. He absolutely loves it. Josh provided excellent customer service and answered all my questions in a timely manner. The ring is extremely well made and exceeded my expectations. I highly recommend."

- Natalie Baca

"Josh absolutely surpassed any expectations that I had through this process. The ring itself is stunning, and my fiance keeps saying how excited he is to wear it (a HUGE complimemt, because he doesn't wear jewelry). Josh knew that we were in a hurry, and had it to our door before we even knew. I can't recommend him high enough!"

- Amee Lamoine

"Dealing with Josh was a pleasure, the rings are beautiful and the packaging is impressive. Josh kept us updated throughout the process and got the rings to us on time. I highly recommend using JBlunt designs!"

- Christopher Eugster